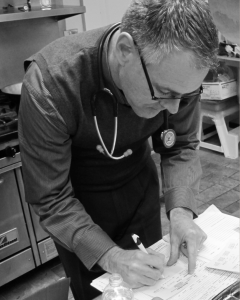 Operations:
Who do you treat?
We treat anyone who meets the financial guidelines.
What are the financial guidelines?
We use 200% of the Federal Poverty Level.
2017 Income Guideline
(200% of federal poverty guidelines)
Household Size
Weekly
Monthly
Yearly
1
$464
$2,010
$24,120
2
$625
$2,707
$32,480
3
$785
$3,403
$40,840
4
$946
$4,100
$49,200
5
$1,107
$4,797
$57,560
6
$1,268
$5,493
$65,920
7
$1,428
$6,190
$74,280
8
$1,589
$6,887
$82,640
For each additional person in household, add
$8,360
Do you see people with insurance/Medicaid?
Yes, as long as they meet the financial guidelines above. Please note that we are a limited services facility with limited hours and can not provide the level of care that a primary healthcare provider can provide.
What are the costs for your services?
All of our services are free, including most prescription medications, glasses, and other specialty services.
How do I make an appointment?
Our Monday morning and Wednesday evening clinics are walk-in and no appointment is needed. It is helpful to call ahead (740-816-6955 x 3) to let the nurses know that you're coming so they can pull your chart, but it is not necessary. Our Monday, Wednesday, and Thursday specialist visits (dental, vision, nutrition, women's health, podiatry, physical therapy, and chiropractic) and Tuesday nutrition classes are by appointment only. For an appointment or more information, please call or email (740-816-6955 x2 or nicole@graceclinicweb.org).
Monday the doors open at 9:00 and on Wednesday the doors open at 5:30. If you have a specialist appointment, one of the nurses will tell you when to arrive.
What forms will I need to fill out?
New patients are asked to fill out a new patient packet at the clinic. If you wish to complete this ahead of time, please print the forms below.
Organization:
How are you funded?
We are funded through the generosity of United Way of Delaware County, SourcePoint, Grace Church of Powell, Delaware County Foundation, Delaware County Healthcare Foundation, Grady Hospital Medical Staff, Women Giving Together, Ohio Health, Central Ohio Primary Care, Delaware County Bank, and many generous private and corporate donors. We receive no direct government funds and do not bill insurance/Medicaid.
How many staff members do you have?
We have four part-time staff members, two nurses and two admins. All of our providers and specialists, all but two of our nurses, and all of our non-medical volunteers (over 160 people in all) receive no pay for their services.

Do you have any other clinics? 
Grace Clinic Delaware is operated by Grace Clinics of Ohio, Inc. They also operate a clinic in the Linden area of Columbus that is open on Saturday mornings:
2052 Cleveland Ave
Columbus OH, 43211
Contact Phone: 614-294-6238
40 S. Franklin St. | Delaware, OH 43015
740-816-6955