We are a free medical clinic, and our services are available to anyone whose income is at or below 200% of the federal poverty level. That is around $25,520 for a single person and around $52,400 for a family of four. We do see patients who have insurance or Medicaid and are unable to find a provider elsewhere, but we offer limited services and are not comparable to a full service primary care physician.
Medical Appointments: Walk-in hours are on Wednesday evenings (5:30pm) and on  Monday mornings (9:00am).  We treat minor illnesses and injuries. We do not offer prenatal care, casting, psychiatric treatment or substance abuse treatment.
Specialist Appointments: We offer specialist visits by appointment only.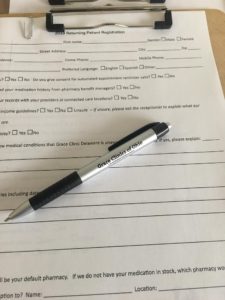 Our current specialists are:
Optometry
Dental
Chiropractic
Nutrition
Physical Therapy
Women's Health
Podiatry
To schedule a specialist visit, please call 740-816-6955.
Prescription Assistance: The clinic stocks most medications that are prescribed by our physicians. Medications are dispensed for free. If a medication is needed that is not in stock, assistance is available.
Prayer:  Our prayer encouragers would love the opportunity to pray with you before, during, or after your medical visit.
New Patients: New patients are asked to fill out a new patient packet at the clinic. If you wish to complete this ahead of time, please print the forms below.
Paquete de Paciente Nuevo en Español
40 S. Franklin St. | Delaware, OH 43015
740-816-6955