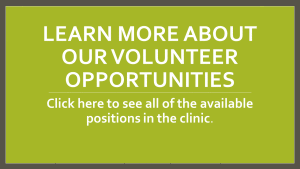 Frequently Asked Questions
What should I wear?  
The clinic is very casual. Most volunteers wear jeans. Scrubs are welcome too, if you prefer.
Where do I park?
There is parking at the back entrance.
What do I need to bring?
If you are a licensed provider please bring your drivers license and any applicable immunization record to your profession. We provide coffee and water. Dinner is provided for the Wednesday night clinic volunteers in Delaware.
Delaware Clinic Times
Monday Clinic opens at 9 am. Please arrive shortly before 9.
Wednesday Clinic opens at 5:30 pm. 
Reception, greeter and patient flow should arrive at 5:30 pm.
Nurses should arrive at 5:45 pm.
Prayer, Pharmacy and Pharmacy Assistant should arrive by 6:30 pm.
Tuesday Clinic is only open for scheduled appointments. Volunteers should arrive by 6 pm.