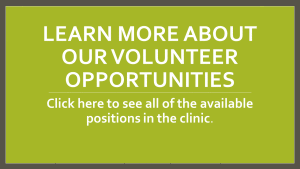 Delaware Clinic Times
Monday Clinic opens at 9 am. Please arrive shortly before 9.
Wednesday Clinic opens at 5:30 pm. 
Reception, greeter and patient flow should arrive at 5:30 pm.
Nurses should arrive at 5:45 pm.
Prayer, Pharmacy and Pharmacy Assistant should arrive by 6:30 pm.
Tuesday Clinic is only open for scheduled appointments. Volunteers should arrive by 6 pm.